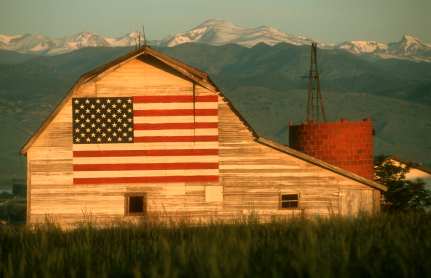 Print Your U.S. Citizen's Pledge Certificate and Review it Daily.  Reviewing your U.S. Citizen's Pledge Certificate daily will serve as a reminder of your commitment and will help make community outreach a habit and bring respect for the awesome power of Election Day.
Get Educated.  Educate yourself by reviewing information on America's founding principles such as limited government, free enterprise and individual liberty, as well as identifying the names and the voting records of your representatives on key issues, and learning about the most important current political issues. Check your organization's website or www.VoterCountry.com for valuable information and links to good sources of information.
Explain what is at Stake to each Person Individually.  Start by talking to your friends and family about the most important reasons that this election is vital to America's future.  Explain how our country's future depends upon each person's engagement in the electoral process and that by making this pledge we fulfill our citizens' duty to preserve the blessings of liberty we have received. The country has strayed far from its founding principles and each citizen's pledge to get involved and get others involved is needed to make a difference.
Be Proactive and Reach out to More People to find Citizen's Pledge Recruits.  Reach out to other people in your more distant network such as friends of your family, friends of your friends, or people at your school, job, gym, church, synagogue, gas station, grocery store, or anyone you interact with on a daily basis. Work your contacts to try to find citizens who are not registered or who would not otherwise vote. Even if you don't personally know these citizens, you can reach them through others in your network and their children, parents or friends.  Strike up the conversation to seek a new voter and defender of liberty.
Seek out People who are Not Registered to Vote.  Seek out places where unregistered citizens, young and old, may be located.  When doing voter registrations at a location, you may need to use paper registration forms instead of the web tool.  In this case, remember to collect emails and cell phone numbers so that you can follow-up with voter education and Get Out The Vote reminders.  Also, local paper registration forms can be collected and mailed in bulk to your Secretary of State by your organization to ensure proper registration.  Some examples are below:
Work with the young people you know to find other young people who may not be registered, may not be registered at the proper location, or may not plan on voting. Find the best places in your area with groups of young people such as in community fairs or festivals, parks, open air markets, concerts, churches, synagogues, colleges, or at other community events that attract a crowd, and work with young people to engage these young people.
The elderly population is likely to need help in getting registered or re-registered to vote. Ask your network about parents or relatives living in assisted or elder living facilities make efforts to engage and register these voters (and their visiting relatives).  People in these facilities may not have re-registered since moving to the facility and can use help getting registered and actually casting their vote.
Help Get your Recruits Registered.  Ask your recruits if they are registered to vote at the address they expect to be living at on Election Day and if they plan to vote in the election, whether or not they sign the Pledge. For those citizens not registered, send them the Voter Registration link on your organization's website, or on www.VoterCountry.com and assist them to complete the voter registration web program and then to print out the form, fill in their ID number, sign the form add a stamp, and mail it in to the address provided. (Sensitive ID numbers are NOT input into the Voter Country web tool for your security.)  Ensure that each of your U.S. Citizen's Pledge recruits is registered to vote at the proper address.
Have Your Recruits Sign the Online Citizen's Pledge.   Once you have made personal contact regarding the Citizen's Pledge, send your recruits to the online Citizen's Pledge tool link through which you took the pledge, or at www.VoterCountry.com.  Encourage them to sign the pledge.  Follow up as needed overcome any hesitation expressed by your potential recruits and to help educate them on key issues and become a source of information and motivation for them to fulfill their pledges.
Keep a List of Your Recruits for Get Out The Vote Reminders.   Having your Citizen's Pledge signers and Voter Registrants actually cast their ballot is the ultimate goal that must be front of mind.  Keep a list of your recruits with contact information shown below and have a plan to assist each voter to cast his or her ballot on or before Election Day.  Some may require a simple reminder call, while others may need a ride to the polls, help with early voting or vote by mail before the election, or other assistance on Election Day. Contact all of your reports in the days leading up to the election to personally convey the importance of their vote and to overcome any last minute obstacles to voting.
Click here for a Simple Document that you can use to record the contact information for each of your Citizen's Pledge recruits and the actions needed to assist each of them to vote. Or just make your own list with the following information:
Name, Address, Phone Number/E-mail, Registered to Vote (Y/N), Final Contact Made (Y/N), Notes to Ensure Vote
Help Grow your Organization's Membership.  Ask your recruits to opt-in for more information about voting, elections, and important issues so that your organization can email these individuals to educate them about your organization and its voter outreach efforts.
Use Early Voting.   Use early voting, vote by mail, and absentee ballots as available in your area to overcome the obstacles to voting put forth by your recruits such as that they will be away or they cannot travel on Election Day.  More information on early voting can be found on the Secretary of State's Elections website for your state.
Make Election Day Special.   Election Day is when your efforts pay off. Build respect for this day by devoting some or all of the day to get out the vote activities or other Election Day activities. Consider signing up as a poll worker or otherwise helping to monitor the election.  Celebrate our republican form of government, your efforts for our country, and your victories in the evening when the polls close.
Voting is Habit Forming.  Get your Citizen's Pledge recruits to the polls once and they are more likely to vote again and again.
Don't Give Up.    Don't give up or feel hopeless when people are not interested. The continued success of our country is solely in the hands of citizens like us. The effort to educate citizens and increase participation in the electoral process is a noble effort that will determine what kind of country we pass on to our children. Every single person that you assist to register, re-register, vote, or otherwise engage in the electoral process represents an important contribution that you have made. Thank you